Pablo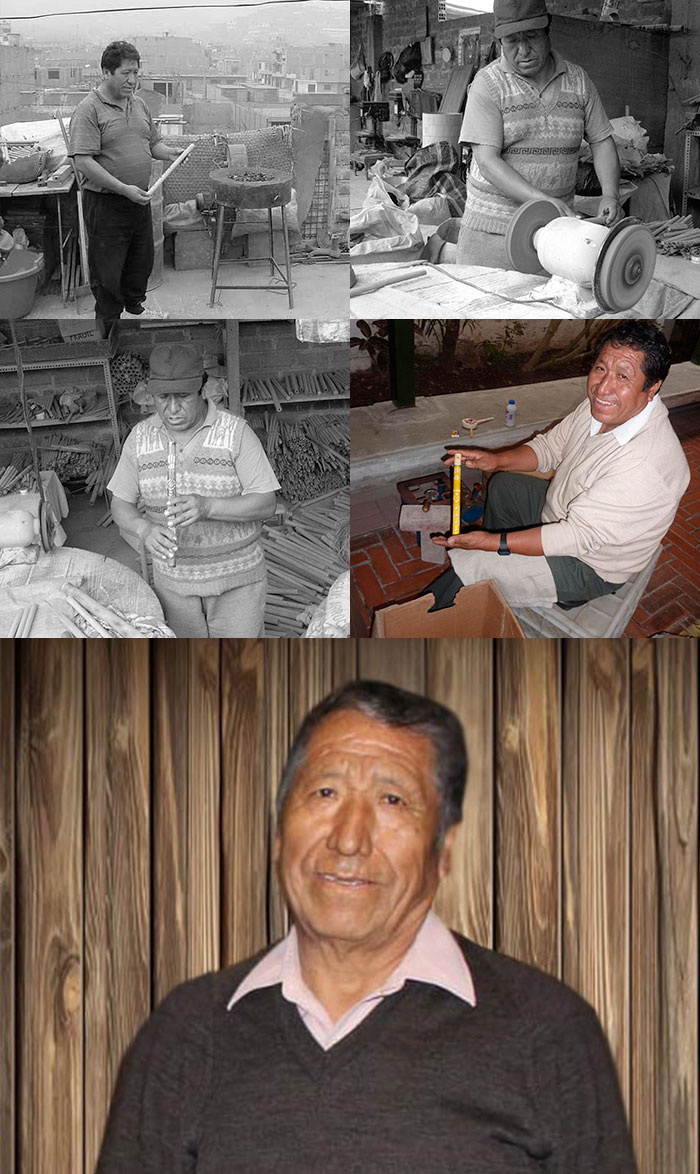 Pablo is a descendant of the community of Isancuyo – Puno, his ancestors dedicated themselves to making musical instruments by teaching children from all over the community. Since then, Pablo has been developing these musical instruments, becoming increasingly technical with the advancement of technology and diversifying the production of musical instruments. Being recognized as the best artisan of musical instruments in 1984 by the Ministry of Tourism and Integration.
The products are made of natural materials such as bamboo cane, reeds, san Juanito cane, mama cane, castilla cane, etc. They come from the jungle, the mountains and the Peruvian coast. The instruments go through a quality control and are tuned in a universal note. Thanks to fair trade, Pablo has been able to bring forward his children who also support the production of instruments.
Paul's testimony
"I was born in Puno, in the Isancuyo Community. With all my family we continued our tradition and culture, producing varied and special instruments. We work together preparing antaras. Antaras are made with Castile cane and a kind of cane called "Carrizo". The "Carrizo" grows on the shores of lakes and lagoons in the Andes. We also make the "Tinya" drum and the pre-Columbian drums. The drums are made of tree bark, wood and sheepskin. I specialize in Quenas and Flutes for professional musicians and artists. I play the Quena and other instruments as an expert although I have not attended the Conservatory. I am proud of that. I love this work, that's why my daughters, sons, wife, grandchildren, nephews, etc. have been taught everything I know about canes and how to transform them, creating lovely sounds and music. We are very grateful to those who, like Minkay Fair Trade, buy these instruments. In this way we can spread Peruvian culture, art and tradition, and also live a better life and study. I am proud that my children attend college and a son is studying at the Conservatory. Fair trade has changed our lives".